Contacts Widget
Show all the options for contacting support when your help center user has a question.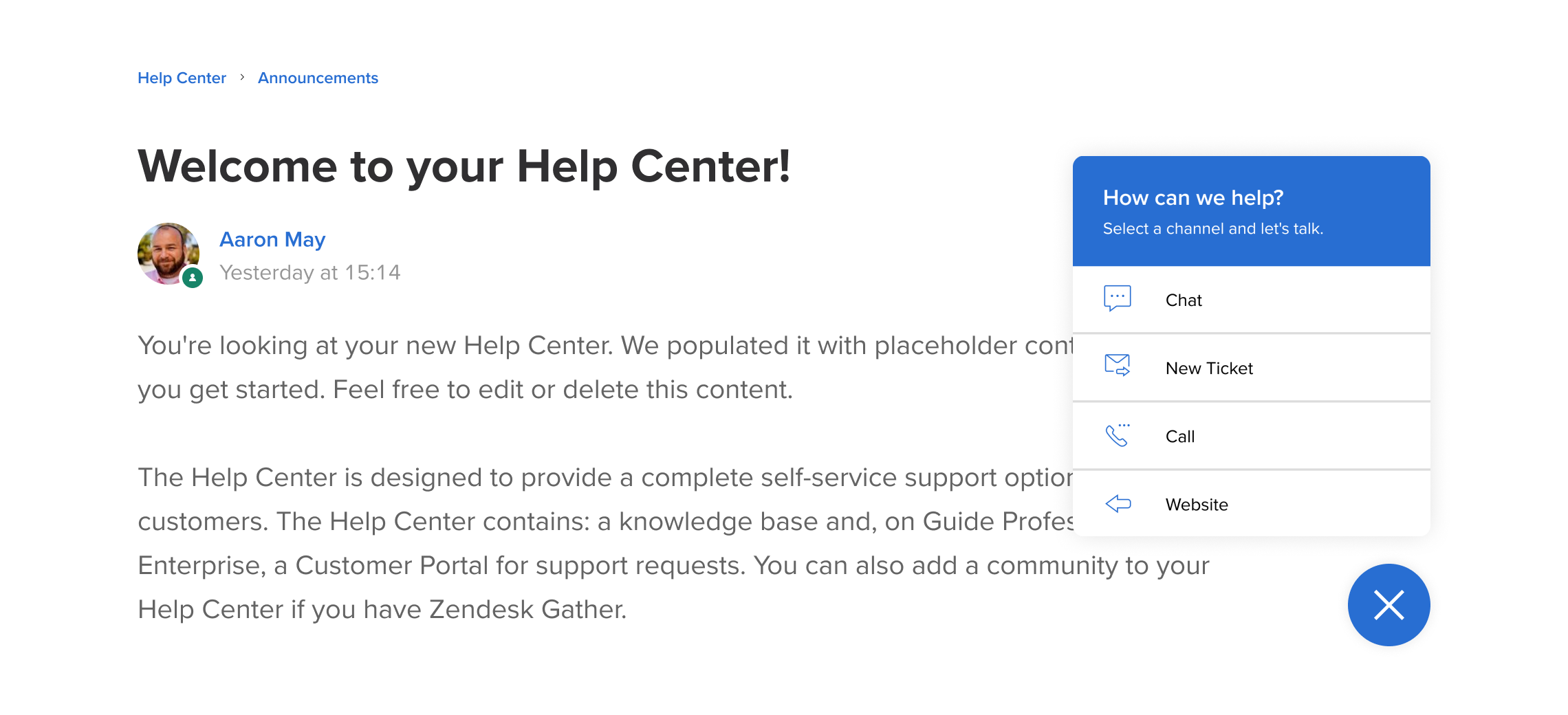 Contacts Widget is a small button in the lower-right corner of the Zendesk help center. It allows users to see all the options for contacting customer support with just one click on any help center page. If you want, each link can be changed, or a new one can be added.
The Widget offers the following customizable links:
Website
Zendesk Chat
New ticket
Call
Other 'Contact us' options
Contacts Widget is integrated with Zendesk Chat. However, it's important that the chat widget must be installed separately. Contacts Widget does not include a subscription to Zendesk Chat and other services.
Key features of Contacts Widget
Quick links when a help center visitor has a question.
Individual customization of each link.
Widget customization options
Window title and description.
Widget color.
Name for each link.
Icons (keeping the color specified in the settings).
Individual items enabled and disabled.
Events that are triggered by clicking on an element. It can be a link or events of other widgets. For example, the "Chat" item opens a chat widget from Zendesk.
Contacts Widget for Zendesk help center is responsive and works on all modern devices. It's also available for screen readers, systems that render text displayed on the device screens. It can be controlled from the keyboard.
Features
Free installation if you use our theme;
Responsive and Retina-ready;
Customization service available;
Zendesk Guide plans: Growth, Professional, Enterprise.
We can install the extension for free but if you want to do it yourself, check the technical guides.
This extension is compatible with Zendesk Web Widget (Classic) only. It doesn't work with the new Zendesk Messaging Widget. Currently, Zendesk provides limited API options for the new Messaging Widget customization, but they are planning to incrementally add more options over time based on customer feedback.
Let's see what
our customers say
Frequently Asked Questions
Is it compatible with Zendesk functionality?
Yes, it supports all Zendesk functions.
Does it support the Zendesk multilingual feature?
Yes, the widget works excellent with the multilingual feature. It shows content in the user's language.
Is it compatible with other Zendesk themes?
It is compatible with all themes. However, if you don't use one of our themes, extra costs are involved because it takes time to understand the code and install extensions. For example, some blocks in the code will have to be transferred, changed, etc.
Layouts in our themes already take into account the extension features and make the process faster and easier.
What are the next steps after the purchase?
Our developers will contact you after the purchase to get temporary access to your Help Center (URL, login, and password) and install the extension free of charge.
Demonstrate all options for contacting support with one click