Algolia Search Integration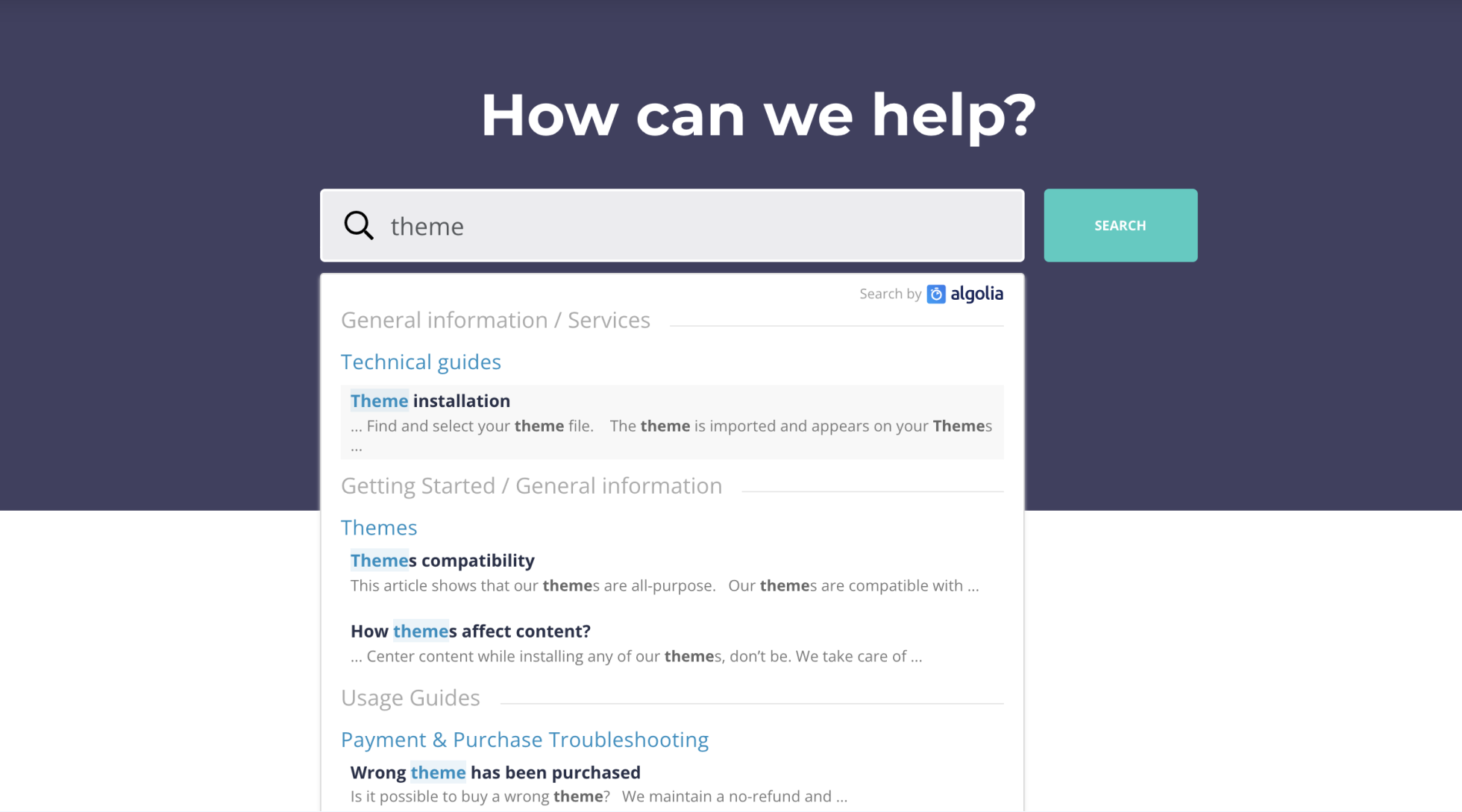 About the extension
With Algolia, you can take the search experience to the next level.

This integration replaces the default search of your Zendesk Guide (Help Center) with Algolia. It is a hosted full-text, numerical, and faceted search engine capable of delivering real-time results from the first keystroke.

Algolia crawls Zendesk API to extract your Guide content and provides you with a small code snippet to power your search.

Features

Custom templates

 

for autocomplete search. It's possible to show search results in a custom design, set the number of suggestions to display, etc. This customization is not possible with the default Zendesk search.
Removing specific articles from the search results.

 

It's possible to let Algolia search know that you don't want to index an article. For this, all you need to do is to add an algolia-ignore label tag on it. After the next reindex, the article won't be searchable anymore.
Analytics. The Algolia analytics enables search capturing, reports about popular queries, searches without results, and more.
This library supports Help Centers in

 

multiple languages.
Limitations

Zendesk Community search.

 

Algolia doesn't index community forums for now. So they will not appear in search results.
Private articles.

 

Algolia can't securely know which access a user has in Zendesk's templates. So it has to limit the indexing to public articles only. A public article is not a draft and is visible to everybody.
* The Algolia subscription is not included in this integration. You need to set up your account and subscription separately.
Frequently Asked Questions
Is it compatible with other Zendesk themes?
It is compatible with all themes. However, if you don't use one of our themes, extra costs are involved because it takes time to understand the code and install extensions. For example, some blocks in the code will have to be transferred, changed, etc.
Layouts in our themes already take into account the extension features and make the process faster and easier.
What are the next steps after the purchase?
Our developers will contact you after the purchase to get temporary access to your Help Center (URL, login, and password) and install the extension free of charge.
---
Let's see what
our customers say
Extensions Bundle
Get 6 most popular extensions
with a total price
of

$

1,394 for

$

699.
Free installation with our themes.
Side Navigation
Table of Contents
Alerts
Prev Next Buttons
Community Hot Posts
Server Status
Contact us before purchasing
to replace extensions in the bundle for free